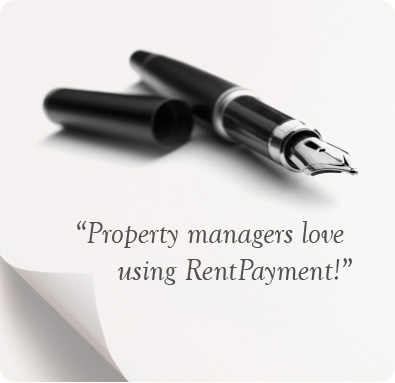 "RentPayment allows our leasing teams to close on more leases and collect more rent! RentPayment is a convenient service for our future and current residents that allows them to pay by credit card for holding deposits and other move-in fees and rent. A link to RentPayment's website is conveniently located on each property's website for quick access. Their customer service is superb and we would recommend them to everyone."
Jackie Lyon
Fairfield Properties
"RentPayment gives property managers the ability to provide renters with the option to pay rent with a credit card, which allows for more on time payments and fewer late fees. We find the credit card swipe to be a great leasing tool, and benefit from the speedy notifications of non sufficient funds, which usually take a week to receive from the banks. The customer service and support have been great resources for onsite managers and the training has been a huge help. Thanks RentPayment!"
Athan Ranglas
R and V Management
"We first decided to use electronic payments so as a company we have a greater cash flow quicker in the beginning of the month. We wanted to give our tenants more options in paying their rent. It makes it easier for the tenants to not receive any late fees. The electronic payments make processing leases easier throughout the country and even around the world. We have a lot of international tenants who have been able to pay deposits online to hold an apartment for them when they were not able to physically be here.


"We are very pleased with the customer service that we receive from RentPayment. We are always able to get help quickly when we are in need of assistance."
Vickie Baumann
Ramshaw Real Estate
"I am very happy! When I contact RentPayment, I get assistance with whatever I need on the spot! Our staff has reported that the support team is extremely attentive to our requests and calls. Properties are set up in a jiffy!"
Mae Price
Steven D. Bell
"RentPayment has streamlined the way we receive our rent. Our experience from the moment we established the relationship has been superior, from the account reps to the customer service people assisting our residents. It allows residents a 24/7 means to pay rent and makes it convenient for everyone involved. With RentPayment, you only have to experience it for a day as a landlord to know you made the right decision. I highly recommend this solution for any property management operation."
Rick McGuirk
United Apartments
"Thank you so much for all your help educating me on the RentPayment system! I have called RentPayment several times over the past few weeks and your staff has always been very patient and helpful. When the call was done, I felt a huge weight off my shoulders."
Sharon Olund
Timberland Partners
"RentPayment is a great service that gives added value to residents by offering the flexibility to pay rent on or offline through various payment channels. The world has evolved into a place where information is most commonly accessed via the Internet and now even by text message. The apartment industry needs to evolve with these trends to stay in touch with our customers, and services like RentByText will help us achieve that."
Andrea Roebker
Village Green Companies
"Our tenants find this additional amenity a great alternative to sending in a payment. Not only is it a benefit to our residents, but it allows our staff to remain onsite by reducing trips to the banks, and is a convenient resource for us."
Patricia Jardine
Churchill Forge
"We really like your RentPayment system. It works very well for us. User friendly, which is a must for us due to our resident profile."
Joy Urich
Allstate Management